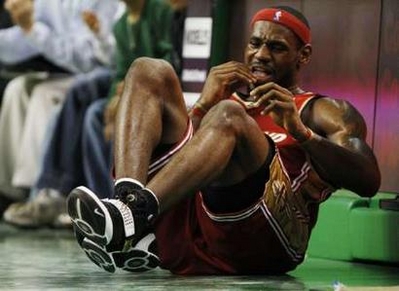 The odds of a team coming back after trailing 0-2 in the NBA playoffs are astronomical.
But just last season, the NBA had two teams come back from such a deficit.
The Utah Jazz won four of the next five games versus the Houston Rockets to advance to the Western Conference Semifinals, and the Cleveland Cavaliers came back to beat the Detroit Pistons in the Eastern Conference Finals.
Facing the Boston Celtics in this year's playoffs, LeBron James and the Cavaliers were staring at their fourth 0-2 deficit in three seasons.
In 2006, the Cavaliers lost the first two games to Detroit before ultimately losing that series in seven games.
In 2007, Cleveland won four straight games against Detroit in the Eastern Conference Finals after losing the first two games of that series.
The Cavs were swept by the San Antonio Spurs in the 2007 NBA Finals.
Boston dominated Cleveland in the Conference Semifinals' first two games. They held Cleveland to 33% shooting and forced LeBron into 8-of-42 from the field and 0-for-10 from the 3-point line.
Despite leading the league in scoring this season, there are still glaring weaknesses in LeBron James' game. Those weaknesses are being exposed versus Boston, just as they were exposed against the San Antonio Spurs in last year's NBA Final. [Read]