"Finding Substance in LeBron's presumed Departure"
We've all heard the rumors – LeBron James will leave Cleveland for supposed "greener" pastures. I remember being outraged years ago when ESPN.com ran a cover story titled "L.A. Bron?" with an image of LeBron dunking against the Lakers. I don't remember the substance of the article, but it was essentially a typical NBA rumor – unsubstantiated. Someone spoke to a "source" and ran with it.
More recently, LeBron was supposed to leave Cleveland for New Jersey, so he could play with Jason Kidd and work for Rap Mogul Jay-Z. After the Nets traded Jason Kidd, the rumors got LOUDER, with the Nets planning to move to Brooklyn in the coming years.
On March 5, 2008, LeBron "called his shot" to Spike Lee and dropped 50 points (and 10 assists, 8 rebounds) on the lolely NY Knicks, exchanging words with Jay-Z, Spike, and other courtside celebs. In his post-game interview, James inadvertently gave a shot-in-the-arm to the LeBron to NY rumors.
"I've dreamed about playing well in this building and it's overtaken of how I could ever dream about," James said. "To get a standing ovation in the greatest basketball arena in the world, it was a dream come true for me. It's one of the best things that ever happened to me."
The media took to LeBron like a piranha to a bloody carcus. He vehemently denied wanting to play for such a sorry organization as the Knicks, but soon said that he accepted the questions would continue for 2 years, but he reiterated that he was content [in Cleveland].
In the past month, Stephen A. Smith boldly declared that LeBron James would definitely be playing in NY in 2010, claiming that he had spoken with LeBron's "people" and that you can count on it.
Outside of the mainstream media is the blogosphere, where the LeBron to NY/NJ/Pluto rumors are not rumors – they are canon.
As a die-hard Cleveland fan, it is increasingly difficult to live in the internet realm and enjoy the Cavaliers at the same time. A typical post-game exchange between fans follows 1 of 2 templates.
Template 1: Cleveland Fan (after a Cavs win): "You can't stop the L-Train!!!!"
Opponent Fan: "Too bad he'll be winning a ring in NY in 2010."

Template 2: Cleveland Fan (after a Cavs loss): "LeBron looked tired tonight – had no legs."
Opponent Fan: "LeBrick/LeBronze/LeSuck/LeBrookyln Blows – he's the most overrated player in NBA history."
So that's pretty much it. It's not like I expect fans of other teams to shell out love to Cleveland, it's just nauseating at how little respect the city gets. But enough about that.
Here are the top 10 reasons that LeBron James will remain a Cleveland Cavalier.
10.) Loyalty – James is a very loyal person – to his family, his friends, his teammates, and the Cavalier organization. He fired Aaron Goodwin (who landed him a $100 million dollar shoe deal with Nike) in favor of his best friends. They have since started a marketing company called LRMR. LeBron bought a house for his mother in Bath township on the south side of SR-18.
9.) Commitment – The Cavs can lose a game 80-75 and if Coach Mike Brown is upset about the defense, LeBron will be the first person to say "We didn't play tough enough on the defensive end." While many NBA fans are captivated by Phoenix Sun-like juggernaut offenses, it is the hard-nose defensive teams that have won the last 5 champtionships (Celtics, Spurs, Heat, Spurs, Pistons) and LeBron James is committed to defense – the mantra of Mike Brown, and the Cleveland Cavaliers. The media would give him a free pass if he threw his coach and/or teammates under the bus and yet he remains committed to them through thick and thin. In his most recent interview, James announced:
Q: Will you make any suggestions to the front office?
A: I think they know. If my opinion is asked for, I'll offer my opinion, because I am the guy out there playing, and I know talent, I guess you could say. But I think they know.
Q: Well, I'm asking your opinion.
A: We will get better. I believe in our front office. I think they're going to do a good job this summer.
8.) Home – There's no place like it. LeBron has just recently built an enormous mansion on the north side of SR-18 in bath township. And it's not like he built it on a farm. There was an EXISTING 40-million dollar mansion that he knocked down because the ceilings were too low. He is minutes away from the Cavaliers state-of-the-art — "off-the-hook" — practice facility and minutes from his mother, and close friends. He lives in a neighborhood, not a secluded area – and when asked about his choice of location he replied that he was close to family.
7.) Winning – LeBron is a winner. He does whatever it takes to win. In high school he averaged 30 points a game and in his rookie season he averaged 20. It was VERY CLEAR that he could have averaged MANY MORE points in high school but he chose to get his teammates involved. He wants to win – this is apparent in LeBron's determination to better himself defensively, where he has made great strides. If the Cavaliers are competitive every year, it's hard to imagine LeBron trading that in to restart his career on a bottom-feeding team like the Knicks.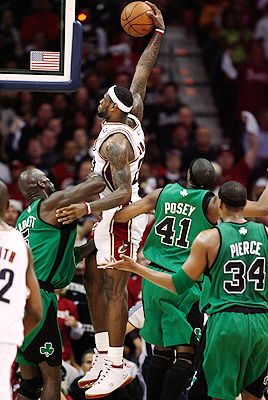 6.) Cake – Why not have it and eat it too?! The logic that LeBron NEEDS NY could not be more faulty. LeBron was the highest paid NBA player last year when taking into account endorsements. LeBron is ALREADY great friends with Jay-Z. It's not like their friendship is conditional. He already parties with him (before and after LeBron resigned with Cleveland in 2006), has songs written by jigga, and can be seen fraternizing at Knicks/Nets games with him.
5.) Payton Manning is more popular than Eli Manning – Payton Manning plays in Indianapolis, a market too small to carry a professional baseball team. Eli Manning just won the SUPER BOWL for a New York team – and Payton is still WILDLY more popular and recognizable than Eli. This is the world we live in today. LeBron does not need to play in a big market to get endorsements deals. He is already the most marketable player in the NBA.
4.) Money – This isn't baseball, it's not like the highest bidder wins. The Cavaliers drafted LeBron James so they can offer him more money than any other organization. The [Larry] "Bird rights" allow a team to resign a drafted player for 1 extra year and 20 million extra dollars than any other team. The last person to walk away from a max deal? Shaquille O'Neal – in 1996!
3.) Golden Opportunity – If LeBron James goes to NY and wins a title – he will be woshipped. King James, to be sure. But the Yankees are the winningest sports franchise in North America. If LeBron wins a title in Cleveland – he will be worshipped as a god. Cleveland is the most championships starved, tortured sports city in America, and with it's continued ecomonics problems, sports is about the only thing Clevelanders can get excited about. Even if it was just one – nothing would ever be the same for Cleveland, or for LeBron.
2.) Legacy – What do Magic Johnson, Larry Bird, Tim Duncan, Kobe Bryant, and Michael Jordan all have in common? Besides being among the games greatest players they played for 1 town – 1 team. (We've all erased Jordan in Washington by now right?) This is part of their legacy. LeBron is a student of the game and takes basketball history very seriously. He may not say it, but deep down he wants to be BETTER than everyone that has come before him. The greatest. If he bolts for another town, his legacy is IMMEDIATELY tainted, especially if the Cavs are on the cusp of a Championship. And judging by the fight they put up against the juggernaut Boston Celtics – the Cavaliers aren't THAT far away. If LeBron wants to be recognized as the greatest to ever play the game, he's going to have to do it with Cleveland.
1.) Because he SAID SO – Resigning with the Cavs did nothing to silence the LeBron-to-anywhere-but-here rumors – it only strengthened them since he signed a 3 year deal instead of a 5 year deal. What is interesting is that Dwyane Wade, Chris Bosh, and Carmelo Anthony all signed the same contract and there have been ZERO rumors of their departure through free agency. When asked after the NY game about leaving Cleveland he responded that he likes it in Cleveland, it is home, where his family is, he loves that his family can sit courtside every game, and that the organization has been very good to him. In his most recent interview:
"I'm dedicated to bringing a championship to this city," James told Mark "Munch" Bishop during an appearance later Wednesday on ESPN 850 WKNR to promote the upcoming King for Kids Bike-A-Thon. "I'm bringing a parade to this city. I love this city. I love Northeast Ohio. . . . Right now I can't see myself going anywhere else."
BallerBlogger contributing writer 'Tsunami' grew up in Parma Ohio, the largest suburb of Cleveland. He started listening to Cavs games when he was 5 years old. He would hide under the covers and pretend he was asleep while tuning into Joe Tait on the radio. His favorite player growing up was Mark Price. Today, he is a graduate student working in Dayton, OH.