Boston Celtics
Coach: Doc Rivers
2007-08 Record: 66-16
Pythagorean Record for 07-08: 67-15
Offensive Rating: 110.2 (9th in the league)
Defensive Rating: 98.9 (1st)
Possessions per 48: 90.9 (19th)
Min%: 87.3 (6th)
Four Factors:

| | | | | |
| --- | --- | --- | --- | --- |
| | eFG% | TOV% | RB% | FT/FGA |
| Offensive | 52.2 (5th) | .147 (29th) | .266 (17th) | .267 (3rd) |
| Defensive | 45.7 (1st) | .152 (1st) | .744 (8th) | .253 (23rd) |
Roster (Click to view, Red indicates new acquisition, Blue indicates rookie)
What difference a year makes. This time last year, we were questioning the Celtics' age, their bench, whether their superstars were mentally tough enough. Now, it's all roses in Boston.
The member of the big three to keep an eye on is Ray Allen. His play declined sharply last year (though, in the midst of all the success nobody seemed to notice). He's still a great shooter, but at this point he isn't a consistent go-to offensive option as much as he is a REALLY good role player. He's also the most injury-prone of the three stars. With the loss of Posey, there's a bigger drop-off if he goes down, so if Boston wants to match last year's success, he needs to stay fairly health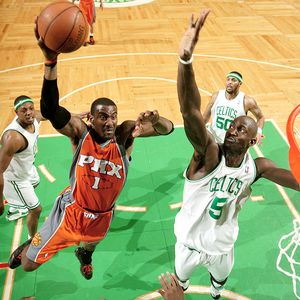 y and productive.
I don't expect to see much drop-off from Pierce or Garnett. Both are excellent athletes who show little signs of slowing, and it's not like they were playing over their heads last year.
You can't overstate how important KG is to this team. He changes the entire face of their defense. He can guard literally anyone on the opposing team, nobody guards the pick-and-roll as well, he disrupts everything in the lane, and he blocks shots from the weakside. Even more than that, his manic energy raises everyone else to a different level. There are few true defensive game-changers in the game today, and he's one of them.
I really like what Boston did this offseason by bringing in Patrick O'Bryant and drafting Bill Walker. Both of those guys are low risk (O'Bryant was dirt cheap and Walker was a 2nd round pick) and could potentially be big pieces down the road. O'Bryant never really got a chance under Nellie in Golden State, but he's a 7-footer who was picked ninth in the draft. That's worth rolling the dice on. Walker has had injury trouble, but he showed glimpses last year of being the same player who got compared to Vince Carter in high school. I love to see championship teams taking chances on high potential guys like this.
Amazing what playing next to KG will do for guys like Kendrick Perkins and Leon Powe, isn't it? Two years ago, they're bums. Now, they're valuable role players. It's good to be a Celtic these days.
Lets be clear on this, Tony Allen is not going to come back and fill James Posey's role. No, not because Posey is a "hardened veteran" or a "winner", but because:
A) That's not the kind of player Tony Allen is. He's a pretty good defender who doesn't give you much offensively. Posey was a better defender, and he drills open shots. Role players who are plus defe
nders and plus shooters are rare, that's why the Poseys and Shane Battiers of the basketball world are valuable commodities.
B) He's a guy who depended heavily on his athleticism, and he tore his ACL and MCL. Generally speaking, that does not bode well.
X-Factor: Rajon Rondo – It's amazing how fast Rajon Rondo went from being the weak link to a rising star. We heard all through the season how his inexperience was going to doom Boston in the playoffs, and then they won and everyone decided he was the archetype of future point guards. We heard draftniks touting Derrick Rose and Russell Westbrook because "Boston just proved you can win a title with an athletic, defensive-minded point guard". I like Rondo, I really do. I was telling everybody at the beginning of last year that he wasn't as bad as people thought, and that he was a heck of a defender (do I want to rub that in a few faces? Well yes, yes I do). However, he still needs to improve by leaps and bounds if Boston is going to stay competitive as their stars age. He absolutely has to be able to hit a jumpshot this year, or Boston will struggle. LA had a ton of success when they put Kobe on Rondo and let him basically roam wherever he wanted on help defense because they knew Rondo wouldn't make them pay. That can't happen again this year.
Overview
Things couldn't have gone much better for the Celtics last year. They stayed healthy, they acquired veterans Sam Cassell and P.J. Brown for the stretch run, their supporting cast stepped up, and they romped through the regular season en route to an NBA title. There were some close calls in the playoffs, but all in all you couldn't have scripted it better for Boston. I don't think people properly appreciate how good Boston's defense was last year. They weren't just the best defensive team in the league, they were historically good. Their 98.9 defensive rating was 8.6 below the league average. That difference is the second highest of the modern era, trailing only the 03-04 Spurs. They forced a ton of turnovers, forced low-percentage shots, and rebounded the ball well. About the only thing they didn't do well was keep opponents off the free throw line. Any time you play defense like that, you give yourself a great chance to win every night.
Prediction
On the one hand, you could say that Boston was remarkably lucky to have the good health they did, and that they aren't getting any younger. On the other hand, you could say that Pierce and KG have proven to be very resilient throughout their careers, and that any drop-off from the vets will be offset by the improvement of young guns like Rondo and Powe. The roster is essentially the same, but I have a hard time seeing this team repeat. Obviously, the talent is still there, but I'm not sure they'll have the same intensity. The East is stronger this year, with 4-5 teams that could legitimately challenge Boston, and I can't see them matching the year they put together last year. Their ability to stay ahead will largely depend on the improvement of Rondo, Perkins and Powe. Rondo in particular is important. If he can step up as a legitimate offensive option, the team gets significantly scarier. For now though, I think they're a step behind the Cleveland LeBrons.
2nd in the East – The Champs
BallerBlogger contributing writer 'xphoenix87′ is a college student who dreams of one day writing about sports for a living. Since that's not gonna happen, he'll do this instead. 'xphoenix87′ will be writing a season preview for all 30 NBA teams — stay tuned.